Divine Time Management
---
The Joy of Trusting God's Loving Plans For You
What if the answer to your time management challenges wasn't working harder, trying harder, or pushing harder? What if the answer was less hard and more ease? Less work and more rest? Less of you and more of God?
We can only go so far in our own time management ability.
At a certain point, we'll hit a wall or barrier that will leave us feeling helpless, empty, or just dissatisfied… That's where Divine Time Management comes in.
Divine Time Management is about a shift away from self to God through these three guiding principles:
Trust in God at the center of your time management
Love for your true identity
Alignment with God through love for God, love for others and love for ourselves
243-page book published by FaithWords, an imprint of Hachette

Traducido al

Español,

Encuentra tu tiempo Divino
Find out more at: www.DivineTimeBook.com 


How to Invest Your Time Like Money
---
A Step-by-Step System for Investing Your Time
In How to Invest Your Time Like Money, you'll get an in-depth look at how to allocate your time so you have enough time for what's most important.
 In this book, you will discover:
Why people fail-before they start-and how they can start succeeding at allocating their time effectively
How to tell if you're in time debt, and a process to get out of it.
A step-by-step system for investing your time so you have enough time for what's most important
75-page e-book edition published by Harvard Business Review Press
The 3 Secrets to Effective Time Investment
---
How to Achieve More Success with Less Stress
Break free from the chronic cycle of overwhelm, frustration, and guilt through this book's proven three-part system for achieving more success with less stress.
Introduces new paradigms such as time investment and work-life brilliance, and reveals how to experience lasting change, including overcoming emotional and mental barriers that sabotage success.
Over 30 ready-made routines on topics like clearing your inbox, meeting deadlines, going to bed on time, exercising, and maintaining friendships plus a step-by-step guide to create your own custom routines.
256 pages hardcover edition published by McGraw Hill, one of the top 10 publishers in the world.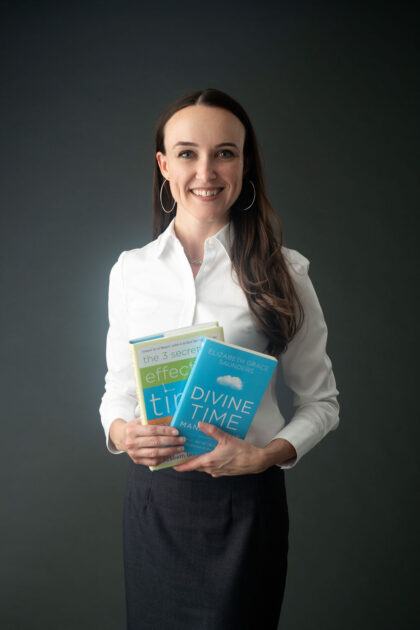 About Real Life E
Hello! I'm so delighted that you've discovered my books about effective time investment. Each one is an opportunity for you to get a taste of the wisdom I've gained from over a decade of coaching individuals on how to improve their time management.
My heart's desire is that reading them will help you to get more done and feel more peaceful and confident. And that in turn will allow you to live a life that's aligned with what's most important to you.
Here's a bit more about me:
Elizabeth Grace Saunders is the founder and CEO of Real Life E® a time management coaching company. She has been named one of the World's Top 30 Time Management Professionals by Global Gurus. The Christian division of her company focuses on a God-centered approach to time management through Divine Time Management.