My friend Jenny Blake at Pivot Method put together an incredible podcast.  I will let you read what she had to say: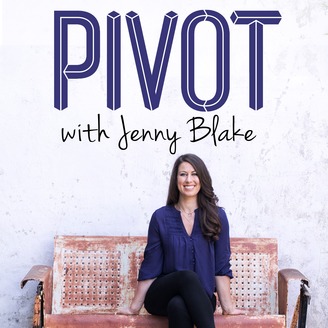 When my friend Elizabeth pivoted from time management author and coach to divine time management, her faith-based practice of "trusting God's loving plans for you," and with the release of her new book in November, I wanted to have her on the show. But I was nervous at the same time.
Is it okay to put faith forward in business? On the podcast? I'm not Christian—would that adversely affect the interview? Would it be divisive in any way for listeners? Our culture prides a separation of church and state, but what about spirituality and business?
In the months since Elizabeth's book launched, I have been sloooowly finding the courage to talk about these topics more prominently on the Pivot Podcast. And believe me, coming from an atheist-turned-agnostic, this was not an easy or obvious choice. But my soul's curiosity and passion for finding deeper meaning in our work says YES. I am grateful to now be exploring people and philosophies of many ranging faiths on this show.
With that, let's dive into this week's awesome episode! I love Elizabeth's advice on loosening the reigns of control, paying attention to inner stirrings, and her vulnerability in sharing how she has surrendered her timing around finding love.
Topics We Cover
How the calling for this book came to her, "part desire and part command"
Her process of writing the book proposal as she developed the practices
Being "patient zero" of needing to relinquish control
Finding the courage to put her faith more forward in business
How to pay attention to inner stirrings
Letting go of forcing your storyline
What to do around "sexy shoulds" and how to handle indecision, saying no
Finding right relationship with self and others
Listen below or on iTunes, SoundCloud, YouTube, Overcast, Stitcher, or Google Play Music:
About Real Life E
Elizabeth Grace Saunders is the founder and CEO of Real Life E® a time coaching company that empowers individuals who feel guilty, overwhelmed and frustrated to feel peaceful, confident and accomplished. She is an expert on achieving more success with less stress. Real Life E® also encourages Christians to align themselves with God's heart through Divine Time Management.
McGraw Hill published her first book The 3 Secrets to Effective Time Investment: How to Achieve More Success with Less Stress. Harvard Business Review published her second book How to Invest Your Time Like Money. Hachette is publishing her third book on Divine Time Management: The Joy of Trusting in God's Loving Plans for You. Elizabeth contributes to blogs like Harvard Business Review, Forbes, and Fast Company and has appeared on CBS, ABC, NBC, and Fox.