IF YOU HAVE EVER FELT LACK OF TIME WAS STANDING IN THE WAY OF YOUR DREAM, THIS IS THE EPISODE FOR YOU.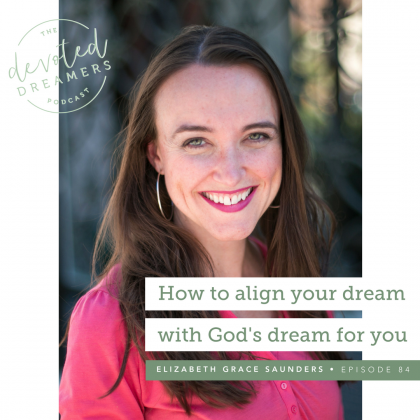 In this interview, Elizabeth talks about the value of owning and sharing your truth, even if some people might not like it. She shares her dream of helping others connect with divine time management principles and draw closer to God, explaining that we can trust God with our time and the choices we make about how we use what He's given us.  She also reveals how God used her dream to convict and change her heart.
To listen to Elizabeth talk with Merritt on Devoted Dreamers you can head over to the podcast here: The Devoted Dreamers Podcast.
About Real Life E
Elizabeth Grace Saunders is the founder and CEO of Real Life E® a time coaching company that empowers individuals who feel guilty, overwhelmed and frustrated to feel peaceful, confident and accomplished. She is an expert on achieving more success with less stress. Real Life E® also encourages Christians to align themselves with God's heart through Divine Time Management.
McGraw Hill published her fir
st book The 3 Secrets to Effective Time Investment: How to Achieve More Success with Less Stress. Harvard Business Review published her second book How to Invest Your Time Like Money. Hachette is publishing her third book on Divine Time Management: The Joy of Trusting in God's Loving Plans for You. Elizabeth contributes to blogs like Harvard Business Review, Forbes, and Fast Company and has appeared on CBS, ABC, NBC, and Fox.